Learn how sugar secretly damages your health, and how to ditch the cravings.
The sweet, white stuff has had a lot of press over the past few years. We're learning a lot about how it contributes to a wide range of illnesses.
We know it's bad for us, yet its strong addictive pull draws us back in over and again! In this workshop, you'll learn simple steps to nourish your body-mind to get off and stay off sugar.
We'll explore eating practices, herbs, nutrients, and healthy sugar replacements. You can try the traditional "sugar destroyer" herb. You'll learn about different ways of stabilising blood glucose for optimal energy and mental clarity. We'll create some sugar free treats together that you take home to help make life super sweet. Plus, we'll brainstorm eating plans that will work for your lifestyle.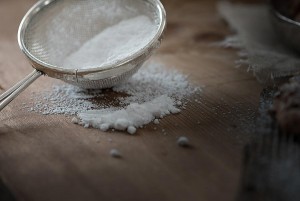 WHAT YOU LEARN:
Clarify what carbohydrates are, and where sugars fit in.
Learn about how sugar impacts your system, immediately and over time.
Herbs and nutrients that support you off sugar.
Foods that really help to overcome the need for sugar.
Approaches to getting the sweetness you crave.
WHAT YOU TAKE HOME:
Some nourishing sweet treats that are quite delicious and supportive
Knowledge that will serve you well for ever
What happens in a Nourish Yourself 90-minute Health Taster?
We start at 6.30pm and explore a topical question for 10 minutes. Then Sally will share some of the latest understandings from nutritional sciences and Lifestyle Medicine for 15 minutes or so. Following this we get hands on into the experience at hand – prepping, tasting, making etc. Then we reflect, discuss and generate some of the key ways we can implement the health hacks at home. You leave with somethings of great value, and out the door by 8.00pm.
WHERE:  Recharge Health Clinic 324 Queens Parade Clifton Hill 3068
WHEN:  Workshop date to be announced

PRICE: